Choral discophiles--rejoice!
As I was searching for a relevant online resource today, I happened upon this painstakingly detailed
discography
of the late choral conductor Robert Shaw (1916-1999).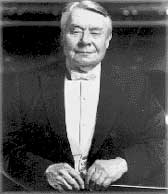 One of the benefits of going to the
College of Wooster
was that music majors were able to buy reduced-price tickets to Cleveland Orchestra concerts. I remember during my first year I put in my name to get tickets for the Fauré Requiem, conducted by Shaw. I was so excited when I found that I was going. I saw him conduct the
Cleveland Orchestra
three or four more times when I was at Wooster, including Mahler's 3rd and 8th symphonies, and Stravinsky's Symphony of Psalms. It was a special treat when the
Wooster Chorus
was invited to attend a rehearsal in which he was preparing a special tribute concert to the late Oberlin conductor
Robert Fountain
. After his death, NPR's Performance Today broadcast a touching
rememberance
of Robert Shaw's life. He said something to the effect of:
Every time we perform a work, we are cognizant of the fact that someone is singing (or hearing) it for the first time...and someone is singing (or hearing) it for the last time.
I have another story to share about Robert Shaw, but I think I need to listen to Brahms's German Requiem right now.